Koo Cloud Theater June 2023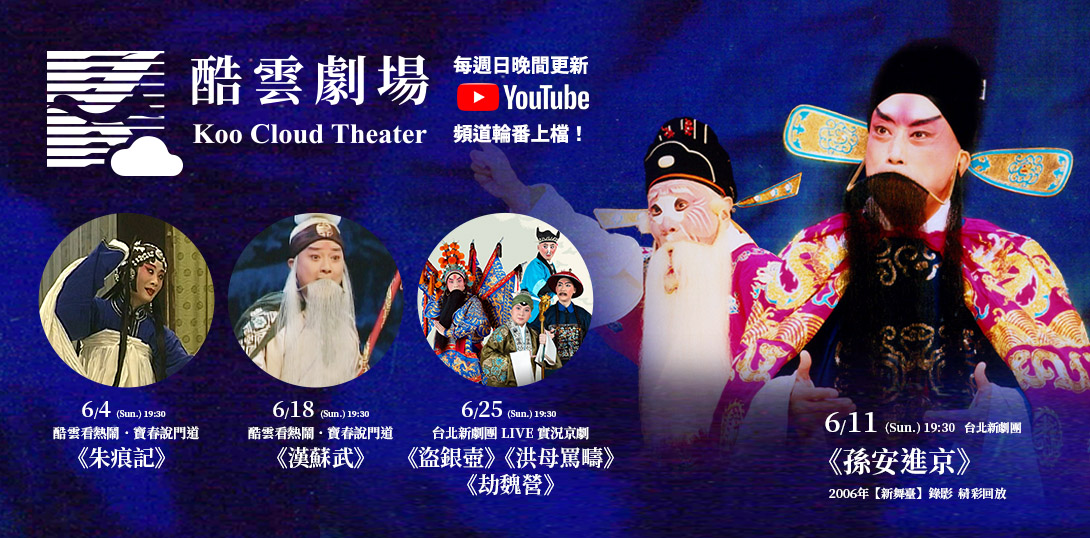 Special Collection from "Flowers Blooming in Spring"
LI Bao-Chun on Traditional Chinese Operas
6/4 The Scarlet Mark


In the Tang Dynasty, Zhu Chun-Deng joined the army in place of his uncle. He was accompanied by his aunt's nephew, Song Cheng. Song Cheng wanted Zhu Chun-Deng's wife, Zhao Jin-Tang, so he attempted to murder Zhu and falsely reported Zhu Chun-Deng dead. Zhu Chun-Deng's aunt forced Zhao Jin-Tang to marry Song Cheng, and claimed Zhu Chun-Deng's wealth. Zhao Jin-Tang refused to obey and got banished into the mountains with Zhu Chun-Deng's mother.
Years later, Zhu Chun-Deng became a war hero and killed Song as soon as he returned in glory. His aunt claimed that his wife and mother were dead. Zhu Chun-Deng ran a food drive for the poor in mourning. He stumbled upon his wife and mother who came to beg for food and was able to confirm their identities with the birth mark on his wife's palm. The family was finally reunited.


6/11 Governor Sun Protests
Minister HUANG of Documents Dispatch by SUN Zheng-Yang
SUN An, Governor of Cao County by LI Bao-Chun
Lady HUANG, SUN An's wife by HUANG Yu-Lin
His Royal Highness Prince XU Long by YANG Yan-Yi
Premier ZHANG Cong by CHANG Gui-Xiang
Emperor Wan-Li by CHAO Yang-Chiang
SUN Ying, Sun An's son by KAO Mei-Yu
Jinhu(Head of Strings): LIU Tie-Shan
Drum(Head of Percussions): LIU Yun-He
Duration: 122 minutes
Filmed on November 12, 2006, Novel Hall for Performing Arts, Taipei
Once in the Ming Dynasty, Cao State experienced severe draught. State Governor Sun An went to the palace to file complain against Premier Zhang for embezzling the relieve fund but got framed and jailed. Sun An's father-in-law Huang Yi-De was a royal minister whose philosophy was to mind his own business. Xu Long, whose father was the state's founding hero, inherited the royal hammer with the power to punish corrupted emperors and lords. Huang and Xu together tried to save Sun, but Premier Zhang forged a royal decree which put Sun An in grave danger…
6/18 Su Wu of Han Dynasty
During Han dynasty, the new crowned king of Huns sent an ambassador to negotiate peace. As a friendly gesture, the Emperor of Han sent Head of Royal Guards, Su Wu, to visit the Huns. After Sun Wu completed the royal duties, the Huns threw Su Wu a farewell party. During this party the King of Huns learned certain Han people were scheming a rebellion and trying to involve Su Wu。 The King of Huns banished Su Wu to the northern frontier where Su Wu became a sheep keeper. Su Wu refused to surrender to the Huns. He even refused Hu A-Yun, a beauty sent to seduce him. Hu A-Yun fell for Su Wu, however, and accompanied Su Wu in hardships. For 19 years Su Wu was in captive and stayed loyal to his state, looking forward to returning home. The Emperor of Han finally sent for Su Wu, but the King of Huns sent his troops with a royal decree as Su Wu and his family were ready to depart. We all know Su Wu finally returned home safely, but how?

6/25 KooCloud Live

Stealing the Silver Pot

In the Song Dynasty, there was a thief name Qiu Xiao-Yi who was quick and light in his feet. One day, he stole a silver pot from General Yang's house. The guards of the General's suspected it was stolen by Zhang Ding and asked Zhang to pay fifty silvers for it. Zhang Ding was very poor, and was about to sell his daughter to repay when Xiao-Yi returned the pot to save Zhang Ding's daughter. General Yang told Xiao-Yi if he could steal the silver pot from his house again, he would pardon Xiao-Yi. Despite the heavy security the General placed on the pot, Xiao-Yi successfully stole the pot once more.
Hong Cheng-Chou Scolded by His Mother

Just before the fall of the Ming Dynasty, Hong Cheng-Chou led his troops to defend the border but was defeated. He surrendered and was recruited by the new Qing government as Commander of Armed Forces in the south. As he led his troops to his new station, he stopped to visit his mother in Fujian. Meanwhile, Mrs. Hong thought his son Cheng-Chou had bravely sacrificed himself, and was mourning for him. When she found out that her son indeed was alive and had surrendered, she decided to disown him. In her fury, she closed the door, called Cheng-Chou a traitor, sent her grandson to the resistance force, and burned herself to death. Hong Cheng-Chou's wife, who decided to stand with her mother-in-law, also burned herself to death.

Seizing the Wei Camp


Once in the Han Dynasty, Cao Cao's force approached the Southern banks of the Yangtze River. General Zhang Liao of the Cao camp defeated Sun Quan at Wharf Xiao-Yao and was stationed at Port Ruxu across the River to Sun Chuan's. The two forces met and Sun Chuan was again defeated. General Gan Ning of Sun Chuan's camp volunteered to ambush Cao Cao at night with only one hundred cavaliers and won a total victory.